Hi lovelies, this is our first weekly workout challenge. Today we will be focusing on the abdominal muscles. So those who want ripped abs, please get in here. The Leg Raises and Bicycle Crunches are the workout programs for the week. We will be doing 30 reps of each before breakfast, and 20 reps of each before dinner daily for 7 days. The workout routines and benefits are listed below:
LEG RAISESHow To
: Lying on a mat,place your palms face-down under your glutes. Keep your legs as straight as possible and slowly raise your legs till they are perpendicular to your body. Next lower them till they are parallel to the body but making sure that they do not touch the mat. This makes 1 rep. Keep the shoulders touching the floor at all times. Repeat as necessary.
Benefit: Builds and tightens the lower abdominal and thigh muscles. No equipment needed. Suitable for all ages (except advised otherwise by a medical doctor)


BICYCLE CRUNCHES

How To: Lie flat on the floor with your lower back pressed to the ground. Place your hands behind your head, then bring your knees in towards your chest and lift your shoulder blades off the ground, but be sure not to pull on your neck. Straighten your right leg out to about a 45-degree angle to the ground while turning your upper body to the left, bringing your right elbow towards the left knee. Make sure your rib cage is moving and not just your elbows. Now switch sides and do the same motion on the other side to complete one rep. Repeat as necessary.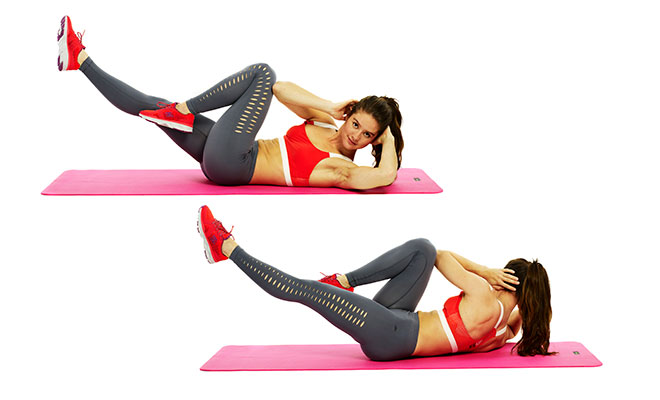 Benefit: Builds and tightens the lower abdominal and thigh muscles. No equipment needed. Suitable for all ages (except advised otherwise by a medical doctor)